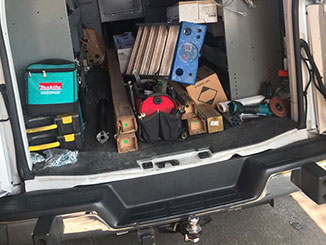 A complicated system like your garage door has plenty of things that can go wrong with it. After over more than a decade working in this industry we've seen every possible problem, from bent and damaged tracks to broken torsion springs and malfunctioning openers. Our technicians know how to handle any problem, and we will provide a fast and reliable solution that gets your door working again quickly.
Problems With The Drive System
The opener is the most complex single part of your garage door, and it can suffer from a wide range of potential problems. One common trouble area is the drive system, where damage can occur to the belt or the chain (whichever one you have) or even to the trolley. When this happens, our team will carefully examine the area for signs of further damage; impacts can easily cause other issues with the rest of the opener. We'll then remove and replace the damaged components, using brand name parts from one of the major manufacturers we work with to ensure our repairs last for as long as possible.
Faulty And Worn Out Springs
All garage door systems use a set of springs to move the panels up and down. These units bear the weight of the door, which is often in excess of 150lbs - this intense strain inevitably leads to them wearing out and weakening, sometimes in as little as 3 years, especially if they aren't properly maintained. Weakening garage door springs need to be addressed urgently, since they can be incredibly dangerous. The replacement job should not be attempted by amateurs, as the high amount of tension involved can cause serious injuries. That's why you need to contact our team and have our technicians handle the situation.
Worn Or Broken Rollers
The rollers that allow your door move smoothly along its tracks need to be kept in good condition. If they're worn and unable to move easily, they can cause a lot of wear and tear to other parts of the system. Our technicians can help alleviate worn-out rollers by applying them with a little lubrication, but damaged units will need to be replaced altogether. In order to minimize disruption to your daily life we always bring replacement parts with us, which lets us swap out components on the spot.
Schedule An Appointment Today
If you need experts to help you with some type of problem, you can count on our technicians to get the job done quickly and effectively. Give our team at Garage Door Repair Cedar Park a call today. No matter what the problem is, our dedicated professionals will be able to help you.
Couldn't find what you're looking for? We also offer:

Garage Door Tune Up Services

Genie Garage Door Openers

Oil Tempered Torsion Springs

Garage Door Receiver Repair